Residential and Commercial Exterior Cleaning Services
Professional Service. Fair Price.
House Wash: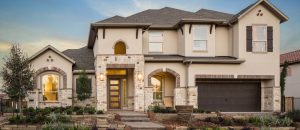 The exterior cleaning services from KleanView have been the most trusted source for house washing services in Jacksonville, FL and the surrounding area. Your home is one of the biggest investments of your life, so it's important to keep your house in pristine condition both inside and out. The exterior surfaces of your home are constantly exposed to harmful elements, both man-made and natural that can cause damage to your home if it's not maintained. These elements will end up causing the exterior appeal of your home to degrade, discolor, and oxidize your surfaces over time.
To maintain the appearance and value of your home, scheduling a routine house washing service is recommended. The frequency of cleaning will depend on local conditions, but regardless of cleaning frequency, a house wash will slow the ravages of nature and it will also enhance the beauty of your home while preserving its value and livability. KleanView Pressure Washing Services never uses high pressure during our house washing services to clean exterior surfaces like stucco, brick, vinyl siding, hardieplank, or any other surface. Instead we use a soft wash method that safely returns your home exterior to it's original like-new condition. Eliminating the need to use high pressure like so many other pressure washing companies use allows us to clean more efficiently without the risk of damage to the surfaces of your home.
Roof Cleaning: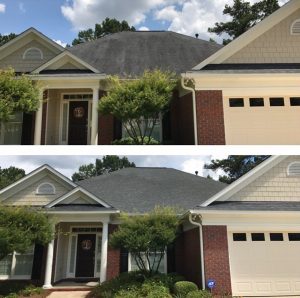 Roof cleaning services from KleanView helps reduce your roof's deterioration because…nothing deteriorates faster on your home in our Florida climate than the roof on your home. Whether you have an asphalt shingle, tile, cedar shake, or other type of roof, you will eventually get those ugly black streaks that can eventually take over your entire roof. Those black streaks on your roof are actually a form of algae called Gloeocapsa Magma (a type of blue-green algae commonly found in climates with warm, humid summers) and they are eating away at your roof. Growth of this algae usually starts on shaded areas of the roof, and usually on the North side. As the algae grows, it holds moisture which causes the growth process to accelerate. This is the reason the roof stains get worse over time. So not only does the algae disturb the beauty of your home, but it actually feeds on the crushed limestone in your roof! These algae will cause you to replace your roof prematurely, costing you thousands of dollars. The black stains on the roof will also absorb heat and moisture on your roof, which can increase your energy bills!
Our low pressure roof cleaning service is guaranteed to safely and effectively clean and rejuvenate your roof.   We only use chemicals and techniques recommended by the Roofing Manufacturer's Association. A roof cleaning combined with maintenance will prevent premature replacement and save you tens of thousands of dollars over the lifespan of your home.  KleanView Pressure Washing company of Jacksonville, FL provides a SOFT WASH, low pressure roof cleaning service that will remove those black streaks immediately and return your roof to its original color and beauty. Our roof cleaning process uses environmentally safe roof cleaning products that are safe for you and the environment. In most cases, we are able to clean your roof without ever having to step foot on it. In cases that we must walk on the roof, we have the training, expertise, and equipment to do so SAFELY without risk to us or your roof. We do not use high pressure for our roof cleaning. Instead we use a soft, gentle approach that allows the roof cleaning products to restore your North Florida area roof to its like-new condition.
"Having your roof cleaned actually makes sense."
 Our roof cleaning technicians clean all roof types, including:
Asphalt shingle
Fiberglass shingle
Wood shingle
Ceramic tile
Concrete tile
Barrel tile
Slate
Rubber
Metal
Gutter Cleaning: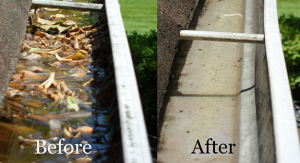 Don't run the risk of damaging your home. Gutters need to be cleaned out regularly. When gutters have not been cleaned, several problems can occur:
Water damage to the outside of your property.
Sagging and broken down gutters.
Rusted gutters.
Blocked drains.
Plant growth inside gutters.
Many of us do not think about our gutters—until it rains and we realize that they are blocked with mold, stones, and leaf matter and as a result our backyard is flooding or water is seeping into the outer portions of the walls. Prevention is always better than curing, so it is a very smart idea to make use of our gutter cleaning service on a regular basis.
Repair costs can get out of control fast. Let our trained cleaners clean your gutters and downspouts, and save yourself a headache. Our gutter cleaning service is the best and most efficient way to keep your gutters cleared.  Removing the debris from the roof and the gutters by hand is the safest and most thorough way to clear your gutters and downspouts. Depending on your property and the amount of trees, your gutter and downspouts should be cleaned 1 to 2 times per year. Regular gutter maintenance means that you can catch any problems early and stop them form accumulating into bigger problems that are harder to solve. When the time comes around to have your gutters looked at, why not save yourself time and hassle and enlist the services of a professional?
Driveway Cleaning
Concrete, Brick, Stucco, and Masonry Cleaning
HardiePlank Cleaning
Patio & Wood Cleaning
Window Cleaning, interior and exterior
Window Cleaning: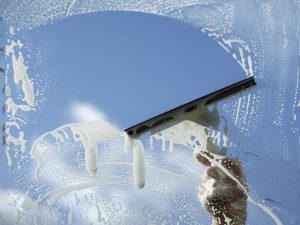 If you're looking for a reliable, bonded, and insured residential window cleaning company, look no further. Whether you're tackling spring-cleaning, preparing for the holidays, or just tired of looking through dirty windows, we can give you a "KleanerView"!
We know you don't want to let just anyone into your house. Our team of friendly, uniformed cleaners have undergone background checks and have been extensively trained to provide the highest quality service.
You can trust us to keep your scheduled appointment, stand behind our work, and provide you the best value in window cleaning. Our professional, uniformed window cleaners will only leave behind incredibly clean windows.
When you find something good, you often want to share it. That's been our experience. That's why our existing customers are one of our biggest referral sources.
Quality you can see, service you can trust! We provide residential window cleaning services to homes of all sizes!
Our Residential Window Cleaning Services Include:
Interior/Exterior Window Cleaning
Storm Window Cleaning
Screen Cleaning
Skylight Cleaning
Mirror Cleaning
Professional Results for a Lasting Impression

Pressure washing is an important part of keeping your business clean and sanitary. Most often pressure washing is completed for aesthetic purposes, but it also keeps your property sanitary. We use top-of-the-line pressure washing equipment to ensure your business looks new again. Using hot water, high pressure, and the right chemicals are what allows us to get awesome cleaning results and operate in an efficient manner. Pressure washing can remove all sorts of dirt, debris, contaminants, oil, grease, gum, tire marks, spills, and other unsightly stains. Concrete and other surfaces can also be brightened to bring them back to like-new condition.
We recommend scheduling recurring pressure washing services to ensure your property never misses a cleaning. The more often the service is performed, the cleaner your property will look and stay. Services can be scheduled on a weekly, bi-weekly, monthly, bi-monthly, quarterly, or semi-annual basis. Let us know if you need services performed at a different frequency and we will accommodate.
Removing graffiti can be a daunting task, but our specialty pressure washing equipment can remove graffiti without an issue. High pressure along with heat can remove most graffiti depending on the type of damage. Removing graffiti is a much better option than painting over it because oftentimes the new paint does not match the existing painted surface. Rust removal can also be performed on concrete, brick, and other surfaces. Removing rust can significantly improve the look of your property.
What We Pressure Wash:
Commercial buildings of all types
HOA communities
Apartment complexes
Stores and restaurants
Concrete surfaces
Parking garages
Brick surfaces
Stucco surfaces
Roofs
Awnings
Hand railings and fences
Grease traps and dumpster pads
Industrial warehouses and equipment
We can wash just about anything!
What We Can Remove:
Dirt and other debris
Bird droppings/mud nests
Water runoff stains
Mold/mildew
Rust stains
Oil stains
Chewing gum
Tire marks
Grease
Paint
All other foreign matter
KleanView window cleaning specialists!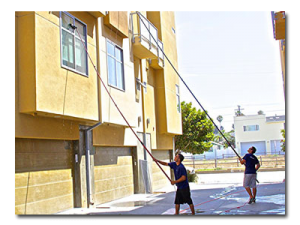 We have extensive window cleaning experience are capable of cleaning difficult-to-reach windows in large buildings while achieving great streak-free results! Safety is an important part of window cleaning and we follow all necessary safety precautions to ensure a safe working environment on your property.
Different properties require different equipment to reach high windows. For cleaning 2 stories or for low-rise properties we are able to use ladders and poles to reach windows. Mid-rise window cleaning projects typically require a boom lift or aerial work platform to access windows in an efficient manner. High-rise window cleaning requires the use of swing stage and scaffold equipment. Our highly-trained professionals are able to operate all of this equipment and perform the cleaning to get the best results.
Hard Water Stains:
If windows are subjected to hard water on a regular basis, they can develop hard water stains. Hard water stains look like rough white spots on the glass that cannot be removed with normal window cleaning methods. Removing them requires specially concentrated pastes and chemicals and polishing pads. Our process completely removes hard water stains from your windows, giving your property a clear view. Common causes of hard water stains are sprinklers and building water runoff. Before removing the stains, it is always recommended to fix the underlying issue that is causing the stains so they do not reappear. If you have trouble determining what is causing hard water stains on your windows, we will be able to help find the cause.
Dual-Pane Window Defects:
Dual-pane windows are constructed with argon gas between the two panes of glass to assist with thermal insulation. Over time window seals can begin to leak. If oxygen makes its way into the window system, it will react by causing a foggy or colored appearance. Oftentimes moisture will appear in-between the window panes. Any moisture or discoloration inside of the dual-pane window cannot be cleaned, and the window may not appear clean. The only way to fix the issue is to replace the glass.
Window cleaning should be completed on a regular basis to keep your property looking great year-round. Different window cleaning frequencies are required for different properties, depending on the location. We can put together a custom cleaning frequency to keep your property looking its best. Stores, restaurants, and high traffic locations usually schedule service for monthly, weekly, or bi-weekly. Commercial buildings and HOAs usually schedule for quarterly, or semi-annual service. If you are not sure how often to have your windows cleaned, let us know and we can recommend the best option.